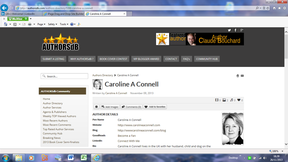 AUTHORSdB is rapidly becoming one of THE 'go-to' sites for readers, authors and service providers alike, so I recently decided to list.
Why? Well, a book club devotee I know described the following predicament:
"It can be a real struggle to decide which new authors to read. We are always looking for new ways to find out about authors and books."
By creating a community of authors, with all of their details listed in one place, AUTHORSdB has created a fabulous place for readers to discover and meet their new favourite author, so it seems to me that as an author I would be crazy not to list and be part of this.
I'm glad I did. AUTHORSdB just launched a new Author Shout Out opportunity. This is a breaking news section located on the front page of the website covering hot new reviews, new launches, freebie events and more. With a constantly updating profile, it's the ideal place to check in those moments when you decide you just have to look for a gift for someone or a need a recommendation to take to the book club later. In fact, I just spotted a new release I like the look of! Now to vote in the 2013 Book Cover Contest, get to the Community, Shout Out my news...