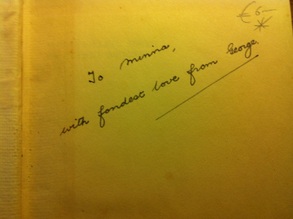 "To Minna, with fondest love from George."
About 15 years ago I picked up an old, slightly battered book from a trestle table in a second-hand book fair. Faded wrapping intact and covered protectively, it offered The Complete Poems Of Rupert Brooke to the discerning reader, complete with his autograph in gold, a black-and- white photograph from 1915 and beautiful, tattered-for-effect pages, as if torn directly from his battle-front notebook.
I love the War Poets as they are collectively known, and this 1932 impression immediately attracted me. It wasn't the book itself, though, that finally captured my heart, but the inscription inside. In a beautiful, no-longer-taught, copperplate hand George had devoted the book, and his love, to Minna.

Who were Minna and George, how had their love fared and how had this book survived sixty years to end up on this table, I had wondered?

It's hard to imagine what life was like in 1932. I tried to picture Minna as in her mid-twenties, born sometime around 1905-1912 and fashionably named after Kaiser Wilhelm (Minna being short for Wilhelmina) by her then achingly current Edwardian parents. Minna no longer liked this name, though. A girl of sensible outlook and with strong morals convictions, she abhored the loss and horror of World War I, and had decided to shorten her name to Minna.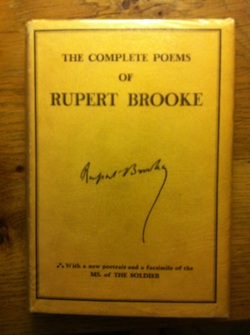 I picture Minna falling in love with George. Perhaps, at some romantic spot, he declared his love for her and gave her the book, knowing her admiration for the poets so cruelly cut down by war. She took it home, and in the quiet of her own bedroom read it, turning frequently back to the inscription (when her heart fluttered and beat just that tiny bit faster.)

I imagine that Minna and George got married. Too young for WWI, they served during WWII. Maybe Minna drove a car, flew planes from factories to airports ready for the RAF pilots or nursed those hurt on the front and by bombs. I picture George facing indescribable horrors. They survived this war informed by the previous and I imagine them going on to have children and grandchildren in a marriage that lasted the decades. The book survived with them, occupying a special place on their bookshelves and in their hearts and being read by later generations.

Time passed, though. They aged, and as they did they stayed true to one another: I picture them as an elderly couple, supporting one another as they walk on the pavements near their home, to the doctors, to the chemist. One, then the other, passed away. Who preceded whom? I imagine it was George first: the trauma of war cutting his life short. Minna, devoted and broken-hearted, keeps the book with her during her own final years, re-reading the inscription and finding that her heart still fluttered after all those years.

Finally, though, Minna passed away too. Her family shared her belongings and cleared away the rest - and the book ended up on the trestle table in the second-hand book fair, waiting to be rediscovered.

I don't know if this is an accurate back story for this book. One thing strikes me as true, though - it is a book of love, given by one loving heart to another in 1932 and that same love keeping it safe for the next sixty-plus years.

Don't you love romance?