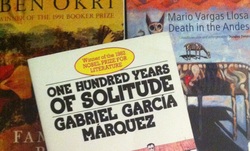 Maundy Thursday brought the sad news that two great men had died - Gabriel Garcia Marquez, pioneer of Colombian and magical realism literature, and Sir John Crossley Wood CBE, pioneer of criminal law and arbitration and general powerhouse at my alma mater, The Law School of the University of Sheffield.

It was sad news, yes, but also thought-provoking news, too. Garcia Marquez created a body of work that is almost transcendental in its ability to transport the reader into worlds where the odd is usual, but he did so by retaining intellectual rigour in story development. No loose ends for him and no irrelevancies, either. Only those developments and descriptions needed by his readers to develop their metaphysical perception of his fantastical creations were permitted. Magical realism is Colombia, after all.

This Aristotelian adherence to logic and the value of human perception also lay at the heart of Wood's law lectures. Regularly, he would cause the assembled student body to question what they were being told and to challenge the postulated position of another. Pithy, insightful asides would indicate the route to developed, reasoned arguments that nevertheless encompassed a clear understanding of human behaviour.

Through global readership and a global diaspora, both men reached and influenced the minds of a great many people. Whilst the news of their passing is undoubtedly sad, it is also uplifting to acknowledge the profound and positive influence that their thinking had, and will continue to have, across the globe.