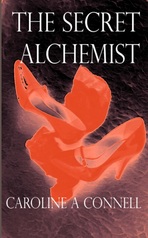 Have you cleared your Kindle, turned off the phone, sent the kids to Grandma's and got a flask of something hot next to you?
You have? Excellent! Because you are in for a treat. A raft of participating authors are giving you either a chapter or their entire book free for today (Saturday 3rd of May only).
As part of this fun, you can read the first three chapters of "The Secret Alchemist" for free on Amazon. Just click on the picture, left, or go to http://www.amazon.com/dp/B00CBHV13K (Amazon should redirect you to your local amazon site as needed).
Once you've enjoyed reading "The Secret Alchemist," head on over to the next blog on the train ride, that of Nick Daws and his book "Three Great Techniques for Plotting Your Novel or Screenplay," at http://www.mywritingblog.com.
And remember, if you get lost along the way, just go back to the Book Blog Train Ride website at http://www.bookblogtrain.com and find the next author's book and website.
Happy Reading!
Caroline