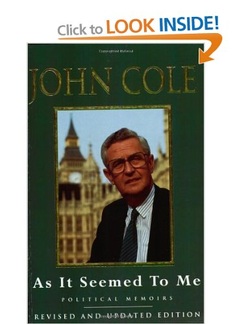 In one of those odd coincidences that litter our lives, Kittenflip launched Kittenflip's Little Something on the 6th November accompanied with a picture of some books from a bookshelf at home. Slap bang in the middle is a copy of John Cole's memoirs - take a look above - there it is!
A day later, yesterday, John Cole's family announced the sad news of his passing after a long illness.
Now, Kittenflip never knew John Cole personally, but as a tribute here is Kittenflip's review of his political memoirs (the 1996 edition), written for today's readers.
For those who don't know, John Cole was a respected journalist focussing on UK politics and life at Westminster Palace (the seat of UK government), for the latter years of his life the Political Editor of the BBC.
His political memoirs chronicle primarily his experiences enmeshed in the bubbling cauldron that was day-to-day life of Westminster in the late 1960s, the 1970's, the 1980's and the first half of the 1990's.
What is most fascinating about these memoirs is how, in recounting some event of say the 1970's, John Cole gives the reader a hook and a route into understanding what is going on in UK politics right now: Parties divided on Europe? Union power over Labour Party policy? Tit-for-tat politics? Politicians vs journalistic freedom? The dumbing down of news reporting? The rise of nationalism? Astonishingly enough, it is all here, sometimes foreshadowed decades ahead.
John Cole's style is discreet, dry, modulated, elegant and concise. This book is not sensationalist, not look-at-me flashy. These memoirs require and reward the reader who wants to exercise their intellect. Though a political memoir through and through, the reader also gets to know something of John Cole the individual - the impact of his early life in Belfast, his left-wing leaning, his passion for hard-work and his ability to calmly and fairly see beyond "the friendly malice that is the salt of politics."
Who would enjoy reading this now in 2013? Who could find this in their Christmas stocking?
For family members who reminisce about power cuts, baking their own bread and/or going into Europe (they voted these governments into power).
Anyone who was a young child during the summer of '76 (they grew up with the events of this book as their formative political background).
For politics students up to and through University (for whom this ought to be a set text).
Anyone with passionate views about key political issues of the day and who wants to understand the often long history behind currently entrenched positions.

This is a densely packed political memoir from a seasoned journalist and is worth a read.