What are you reading? Which books are you loving? It's that time of year again. For the next month or so newspapers, magazines and blogs will be full of reviews, 'top 10' lists and fave-raves of books released in 2013,
making this a fabulous time to discover new, favourite authors and gifts for the special people in our lives. To make it easier to enjoy this, I've searched the internet for current and forthcoming listings. Please take a look (and if you know of any more, please let me know and I'll try and get an update out.)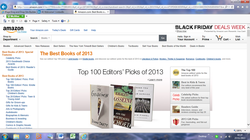 Amazon: For Celebrity Author and Editor Favourites:

Amazon has over 38 million books on its shelves. From this vast
catalogue its editors have selected their Best Books for 2103. The editors have created a Top100 in both print and kindle format, and a Top20 across many categories:
Arts & Photography Audiobooks
Biographies & Memoirs Business & Investing
Children's Books Comic & Graphic Novels
Cookbooks & Food Writing Crafts, Home & Garden Digital Singles
Gift Picks History Humour &Entertainment
Literature& Fiction Mystery, Thriller & Suspense Non-Fiction
Romance Science Science Fiction & Fantasy
Sports & Outdoors Teen& Young Adult Baby-Age 2: Board Books
Age 3-5: Picture Books Age 6-8: Chapter Books Age 9-12: Middle Grade
Amazon have also curated picks from Celebrities such as Kate Atkinson, Anthony Bourdain, Khaled Hosseini, Delia Ephron.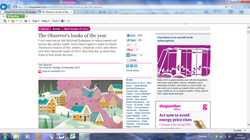 The Observer lists usually kick off the reviews season, and this year was no different with its lists appearing on the 24th November. An eclectic and wide-ranging mix, Observer critics and others share their best picks (from new voices such as NoViolet Bulawayo to film historian David Thomson and satirist Dave Eggers) and what they hope to find under the Christmas tree. Major writers sharing their favourites include Hilary Mantel, Julian Barnes, Sebastian Faulkes and Mary Beard.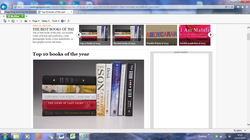 The Washington Post has curated its annual report into the best books of 2013 with virtuosity and audacity, choosing to pick a Top 10 of books from 2013. It also assesses 100 works of both fiction and non-fiction, 5 best photography books, 6 best audiobooks, 10 best graphic novels and more. Expect to find also a review of the year in terms of literary highlights.