The Secret Alchemist, ***** on Amazon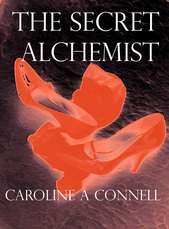 It's a sunny Saturday in Geneva in late June. Tourists pound the city's heat-soaked pavements, lured by the prospect of
sophisticated sight-seeing in such a beautiful lakeside setting.

Skimming across the water, affluent denizens sit on the rails of their yachts, loosening the sheets, and feeling the breeze on their faces.

The siren call of summer, though, doesn't lure Teddi Woods out of her apartment. An expert in tax planning by global businesses, she is used to solving complex challenges. For once, she is puzzled by the email in her inbox, until she realises that she has discovered something that was meant to stay secret.

Her destiny seems inevitable, but can she escape the vortex of destruction before it is too late?
---
Reviews for The Secret Alchemist
"A stunning novel" writes Grady Harp, an Amazon Top40 reviewer, before adding that it is "captivating, horrifying, beautifully sculpted" and giving it ***** on Amazon.com and Goodreads.
​
For James Goulding, parts remind him "of the excellent BBC television series "The Edge of Darkness." For entertainment value and food for thought, I would not hesitate to place "The Secret Alchemist" in a similar quality bracket." He gives it ***** on Amazon.co.uk.
​

David Clarke finds it "enjoyable and cathartic," before giving it ***** on Amazon.co.uk.
​
All about you

eBook now available on Kindle, and on iPad, iPhone, and Android and Windows phones via the fabulous free Kindle-reading app.

The english-language paperback of The Secret Alchemist available on the various Amazon sites.